VW VINTAGE TOUR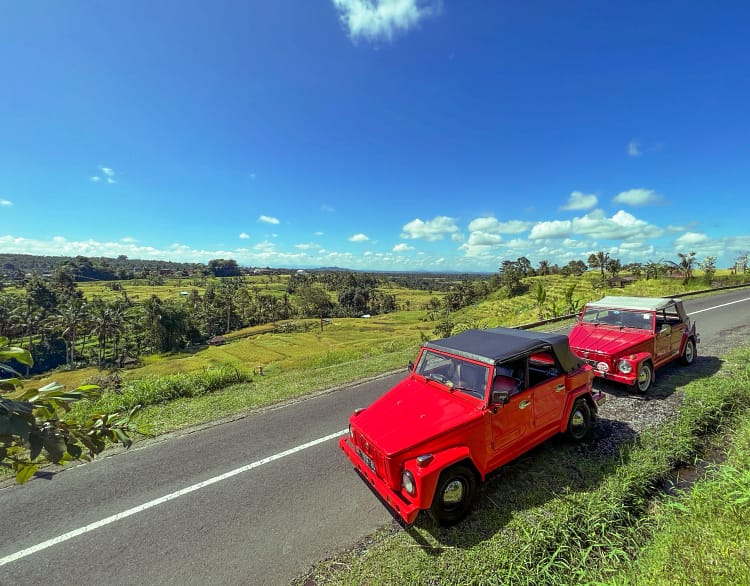 About Our Tour
Step back in time and experience the enchantment of Bali's pristine nature aboard a vintage VW tour. Leave the modern world behind as you embark on an unforgettable journey through lush jungles, scenic landscapes, and hidden gems.
Climb into the classic charm of a vintage VW and let our knowledgeable guide take you off the beaten path, revealing the island's best-kept secrets. Cruise along winding roads, passing emerald rice terraces, cascading waterfalls, and sacred temples, immersing yourself in the breathtaking beauty that surrounds you.
Feel the cool breeze as you venture deep into the heart of Bali's nature, encountering exotic flora and fauna along the way. Uncover the serenity of hidden spots, where time seems to stand still, and capture moments that will forever be etched in your memory.
Our vintage VW tour offers a perfect blend of nostalgia, adventure, and connection with nature. Join us for an extraordinary voyage, where the charm of Bali's natural wonders and the classic allure of a vintage VW combine to create an unforgettable experience.
Itinerary Options
Discover Bali's wonders in a single day. Start with the majestic Tanah Lot Temple, perched on an offshore rock. Avoid the crowds and take in its beauty in the morning. Journey through villages, rice fields, and jungles to Luhur Batu Karu Temple, nestled at the base of an extinct volcano.
Next, witness the enchanting Jatiluwih rice terraces, a UNESCO World Heritage Site. Marvel at the breathtaking landscapes as you drive through this picturesque area. Experience the cool mountain air in Bedugul, surrounded by lush greenery.
Explore the vibrant traditional market, where you can find fresh fruits and spices. Enjoy a delicious local lunch, savoring authentic flavors. Visit Ulun Danu Beratan, a sacred site with stunning lake and mountain views.
End your day by immersing yourself in the daily life of the Balinese people. Explore a traditional Balinese house and gain insight into their rich cultural heritage. Capture unforgettable memories of Bali's temples, nature, and local traditions in one unforgettable tour.
Experience the best of Bali in one amazing journey. Begin at Batuan Temple, a magnificent Tri Khayangan village temple. Immerse yourself in the rich culture and stunning architecture.
Next, visit Ubud Monkey Forest, a sacred jungle sanctuary. Encounter playful Balinese long-tailed macaques in their natural habitat. Explore Ubud Central, the cultural heart of Bali. Discover Ubud Palace and browse local artisan shops for unique souvenirs.
Enjoy a scenic drive through picturesque rice fields and jungles to Kintamani. Savor a delicious lunch with breathtaking views of Mount Batur and Lake Batur. Marvel at the lava rock formations on the Mount Batur Lava Rock Trek.
Discover serenity at Pura Gunung Kawi, a tranquil holy spring temple with clear ponds and beautiful carp. Finally, embrace the beauty of Tegalalang Rice Field, surrounded by peaceful and stunning landscapes.
Capture the essence of Bali's culture, nature, and scenic wonders in this unforgettable tour.
VW Magical Waterfall and Cultural Village
Embark on a memorable journey through the beauty of Gianyar and Bangli. Begin at Tibumana Waterfall, surrounded by palm-lined roads and green rice fields. Capture stunning photos and take a refreshing dip in the natural rock pools.
Continue to Tukad Cepung, a unique cave waterfall. Marvel at the magical lighting and capture a picture-perfect moment. Enjoy a panoramic lunch with Mount Agung as your backdrop.
Venture through a sleepy village and lush jungle, arriving at Penglipuran Village. Discover its well-preserved layout and rich culture. Take a refreshing walk through the Bamboo Forest, learning about its species and uses.
Conclude your tour at Pura Kehen, an impressive temple adorned with intricate stone carvings and a majestic Ficus tree. Immerse yourself in the history and spirituality of this remarkable site.
Experience the wonders of waterfalls, cultural villages, and sacred temples in one unforgettable journey through Gianyar and Bangli.
Unveil the allure of East Bali's treasures. Explore the historic Kerta Gosa site, marveling at its unique architecture. Witness traditional weaving craftsmanship and immerse yourself in the local textile industry.
Admire the picturesque beauty of Sidemen Village, with its lush rice fields and agricultural abundance. Discover the enchanting Tirtha Gangga water palace, adorned with stunning lotus flowers and ornate stone figures.
Indulge in a delightful local lunch and relax on the pristine White Sandy Beach. Witness traditional salt production at a black sandy beach and visit the famous Bat Cave or Goa Lawah.
Experience the rich heritage and natural splendor of East Bali in this captivating journey.
Gallery
What's included
Vintage VW with Driver
Entrance Fee
Licensed Tour Guide
Lunch
Insurance Covered