Indonesian cuisine has countless different traditional recipes assembling from various spices and some mixed to create a heavenly flavor that you will not find anywhere else. Due to being the largest archipelago, when you visit Indonesia and drift to different areas, it will feel like you are entering a new diverse cuisine culture. Now, who's hungry for some Indonesian food journey? meee!  
Nasi Goreng
Let's start with the most popular Indonesian food. We could say nasi goreng is our comfort food, and it's easy and simple yet so pleasing when it comes to flavor. Nasi Goreng is Indonesia's national dish, it is found all around Indonesia, but as referred to before, different areas style this national dish to fit their taste. It is made from rice, preferably a day old, then sautéed with various spices such as sweet soy sauce and different meat and/or vegetables. It is usually served with fried eggs and crunchy kerupuk, Indonesian crackers, but really you could eat this with almost anything.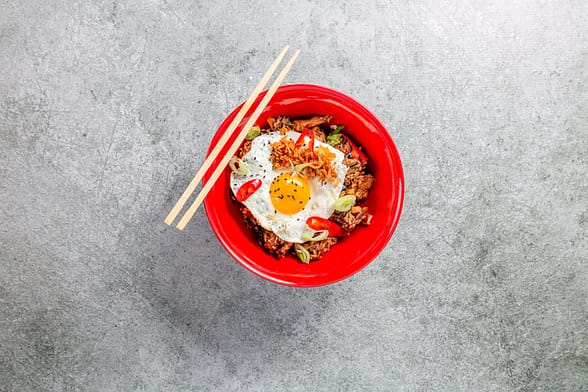 Ayam Betutu
This is a Balinese dish of steamed or roasted chicken, and it consists of an intense taste due to the rich spice mixture the chicken is coated with. The mix consists of different spices such as shallots, chili, ginger, turmeric, garlic, and many more. Here in Bali, the taste and way of cooking change in different areas; for instance, in Gilimanuk, the betutu is rather hot and spicy, while in Gianyar, betutu is cooked with plantain leaf wrapping. This dish is then served with steaming rice. The mixture of the delicious, flavorful soft chicken with the steaming rice is such a perfect combinatio.
Nasi Padang
Now let's travel to the west. Padang originated in West Sumatra, which is where this heavenly dish originated from. It could also be considered as the ultimate comfort food, and it consists of rice with various choices of meat, vegetables and Indonesian curry. You could say that this is the fast food of Indonesia as you simply enter the food stall and select the side dishes of your choice that's placed in stacked plates filled with this flavorful goodness; it can be quite a feast there!
The flavor of the different side dishes is intense and full of great flavors. The most popular side dishes are gulai ayam, rendang (people's favorite!), ayam goreng, tempe goreng, telor goreng, and so much more. I'd suggest you not counting your calories on this one but enjoying the rich, intense flavor the dish has to offer.
Sate
This popular dish can be found all around Indonesia, and it is one of the easiest food to spot. Say you're walking down the street; you have a high chance to smell the grilled meat that's coated with its divine sauce that will leave your stomach growling for it. Satay comes with all sorts of meat, and different areas have their unique twist of sate. For instance, In Bali, we have the famous 'Sate Babi' or 'Sate Lilit', which is pork sate or fish sate. Picture yourself enjoying a juicy, spicy, and tender sate while enjoying the warm orange sunset; it sounds like a dream to me!
Sate is usually accompanied by 'lontong', which is a rice cake, but you can even have it with plain rice or even fried rice. A popular sate is the classic 'sate ayam' chicken sate, which is usually served with fried rice or rice cake, this delicious chicken sate is coated with its famous peanut sauce, so for all peanut sauce lovers this is for you! Many varieties of sate from all sorts of meat and covered with all kinds of different sauces and all the different fantastic flavors are definitely worth trying.
Bakso
Bakso translates to meatball soup, and you may be wondering, what's so special with meatball? Well, it's the flavor that the overall flavor dish offers you. Bakso is a meatball in a flavorsome soup made with beef or chicken broth, and then it is accommodated with glass noodles, yellow noodles, tofu, egg wrapped with bakso, finely chopped fried garlic, and fried or/and steamed wonton. Although different warung or restaurants may serve bakso with all types of things, for example, siomay and bakso can come with many types of filling, notably cheese, eggs, or even chili (Yes, we Indonesian love our chili!). Bakso is the perfect dish during the rainy season as this will warm you right up!
There are many unique Indonesian dishes you can try during your stays here in Indonesia that will leave you begging for more. Enjoy the rich flavorful dish you have here before you return and crave for more! Indonesia's dish indeed leaves you a mark of longing when you can't get some more! If you want to know more recommended Indonesian food click here.